GOP Tax Reform Framework
September 29, 2017
Blake Christian, CPA/MBT
After several months of speculation and abundant criticism, the current proposal of Trump Tax Reform has finally been released. While specific details have yet to be provided in certain areas, we now have a fairly good idea of the general framework proposed by Congress. Below is a brief outline of what we know thus far.
Tax Reform Pertaining to Businesses
In line with the move to territorial taxation, a one-time tax will be implemented for offshore earnings that are brought back onshore to the United States. The specific rates have not yet been announced, although rates in the 10% have been discussed. We do know that a higher rate will pertain to cash and cash equivalents. A lower rate will apply to other assets repatriated to the U.S.
The deductibility of business interest will be limited.
Most tax credits will be eliminated although the research and development, and low-income housing credits will likely be retained. We suspect that certain hiring credits, such as the Work Opportunity Tax Credit (WOTC) will also be retained to encourage hiring.
As of now 100% expensing of business assets other than real estate will be allowed for at least a five year period.
The corporate tax rate will be lowered to 20% from the current maximum of 35%.
Pass-through entities such as LLCs, Partnerships, and S Corps will no longer be subjected to the individual rate but rather a flat rate of 25%. We anticipate some "grandfather" provisions to prevent taxpayers from restructuring Schedule C and other operations into new entities solely for the purpose of lowering their tax rates.
Tax Reform Pertaining to Individuals
Three tax brackets (down from the current seven brackets) will be implemented, and President Trump telegraphed that a fourth rate for the wealthy may be added. The new rates of 12%, 25%, and 35% will apply, but the specific income thresholds are still to be determined. Capital Gains will likely stay at 20%, plus the additional 3.8% for higher-income taxpayers. During the 2016 campaign, had proposed the following taxable income brackets (pink section) which may give some insight as to possible rate thresholds: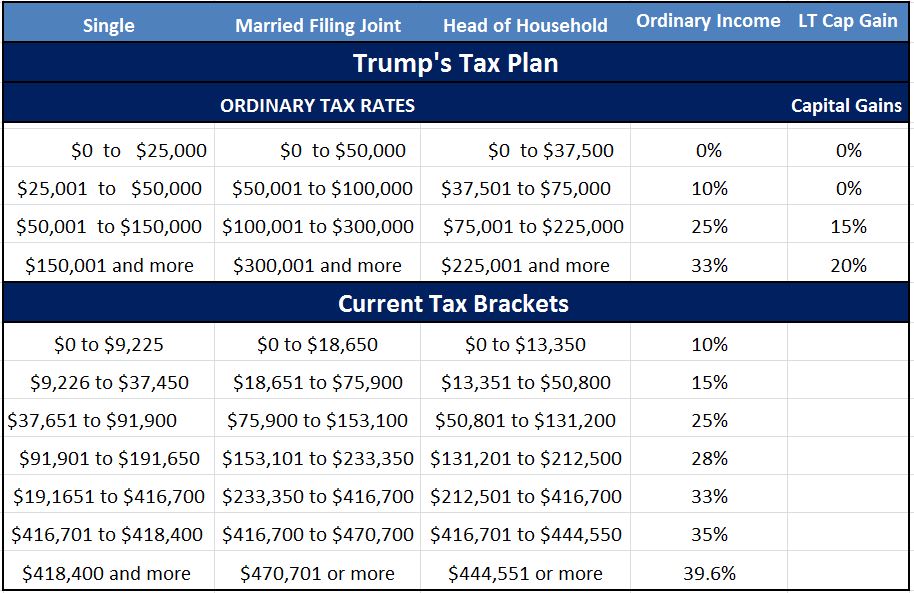 Most deductions will be eliminated except for mortgage interest and charitable contributions. Most notably, medical costs, income taxes, real estate taxes and other taxes and fees may no longer be deductible on Schedule A.As you will see, while the rates may drop for certain groups, taxpayers will likely reach the maximum rates much more quickly under the proposed structure.
In return for limiting itemized deductions, the standard deduction will rise for single to $12,000 and Married Filing Joint $24,000. These are less than half of Trump's proposed standard deductions announced last year ($25,000 and $50,000).
Alternative Minimum Tax will be eliminated. This is a somewhat hollow victory because the trigger of AMT is often large itemized deductions and the proposed framework will dramatically reduce itemized deductions.
The child tax credit as proposed will increase but the amount is unknown as of now, but possibly $1,000 per child. A new credit will also be created for non-child dependents of $500.
Estate and generation-skipping transfer tax are proposed to be eliminated which is currently at 40% The proposal does not address gift tax or whether inherited assets will receive a "step-up" to fair market value, which occurs under current law. Most commentators believe step-up will be allowed for estates of $10 million or less.
In summary, these tweaks (not Tweets) in the tax package are far from being an "overhaul" but would bring the United States more in line with the worldwide business tax rates (world average about 25%) and also provides a degree of simplification and relief for low- and middle-income taxpayers. Let the debates begin.
To learn more about how the proposed reform will impact you or your business, please contact us at marketing@hcvt.com or your HCVT tax advisor.
About HCVT:
Founded in 1991, HCVT is one of the fastest-growing CPA firms in the nation. The firm provides provide tax, accounting, business management and mergers & acquisition services to private companies, closely-held businesses, public companies and high net worth individuals and family offices. The firm's over 500 members, including over 100 partners and principals, work from eight offices in Southern California with additional offices in Walnut Creek, California, Fort Worth, Texas and Park City, Utah. Learn more at www.hcvt.com.
About Blake Christian
Blake brings over 35 years of experience providing tax consulting and compliance services to clients that include multinational, publicly traded corporations, as well as closely held owner-managed businesses. His industry experience is broad and includes manufacturing and distribution, service companies, restaurant, shipping and transportation, energy and healthcare. In addition to corporate, partnership and individual tax compliance and planning, Blake specializes in federal, state and local tax incentive, tax credits, grants and other benefits associated with hiring and investing. Contact Blake at blakec@hcvt.com.