Focus. Clarity. Commitment.
Phil Holthouse, Jim Carlin, and John Van Trigt came together to create a firm that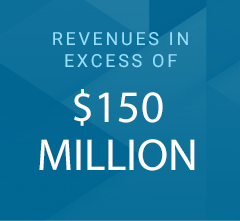 was different for their clients and employees — a firm based on technical excellence, a business model built on partner access and accountability, where the focus is on needs of the client. A team of professionals committed to the success of their clients. Clarifying and resolving complex issues is what we do. How we do it is what sets us apart from other CPA firms. We strive to deliver value and provide solutions that help our clients achieve their goals.
Firm profile
Founded in 1991, HCVT provides tax, accounting, business management, and mergers & acquisition services to private companies, closely-held businesses, public companies and high net worth individuals and family offices. We provide auditing services to privately held businesses and employee benefit plans. Today, we are a team of over 700 members, and over 100 partners and principals. We are known in the marketplace as a firm with deep technical skills addressing the most complex tax issues associated with partnerships and pass-through entities. We serve our clients from nine offices in Southern California and offices in Walnut Creek, California, Fort Worth, Texas, Park City, Utah, and Phoenix, Arizona. We are highly specialized and focus on specific industries and market niches. This focus allows our team to provide our clients with insights about issues critical to business owners—industry trends and leading practices, changes in accounting regulations and taxation, managing risk, and financing options, to name a few.
Validating the strength of our people and the success of our firm, HCVT has been recognized by Inside Public Accounting as one of the "Best of the Best" Firms for a record 16 consecutive years. "We attribute this recognition to our focus on doing the right things for our clients and our people," says Phil Holthouse, managing partner. "We have stayed true to our core services, have achieved this record of growth without acquisitions or salesmanship, and have provided advancement opportunities for our team members. We have a terrific combination of talented people and successful, interesting clients not typically found outside the Big 4."