2017 Day of Service

Building homes for a better future with Habitat for Humanity of Ventura County

2017 Day of Service

Caring for our furry friends at the Los Angeles Animal Shelter

2017 Day of Service

Hopped on the Do Good Bus to package over 1500 food boxes for seniors at the OC Food Bank

2017 Day of Service

Cooking, preparing and serving meals for those in need at the OC Someone Cares Soup Kitchen
As we celebrate our 25th year, we are grateful for our success and prosperity.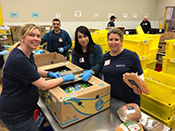 One of HCVT's core value is to give back to the community, and as part of the firm's 25th anniversary celebration, we dedicated a Day of Service. We kicked off 2017 with one simple goal—to give back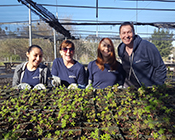 to those in need. Nearly 300 employees participated, providing over 1,500 hours of service to nine organizations. Whether it was packaging boxes at the local food bank, building homes, tending to animal cages or caring for a wildlife habitat, our HCVT team worked hard to make a difference.
Our focus for 2017 will be devoted to supporting our veterans.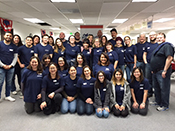 "In focusing on one area of need throughout the year, we see the collective impact we can make in our community" stated Julie Miller, partner, and chair of the firm's Community Service Committee. We had the honor to participate in Operation Gratitude where over 30 members from our Los Angeles office created care packages for our veterans and troops.
In 2016, the community service highlight was part of the firm's launch of our

Women@HCVT initiative. The Women@HCVT Committee selected three nonprofit organizations that supported women and children who requested help with daily toiletries. HCVT came together and did a fantastic job by collecting essential items such as toothpaste, shampoo, soap, and diapers.